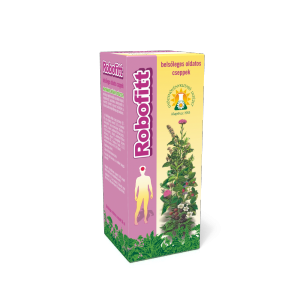 Robofitt oral drops can be used for strengthening overloaded, weak body. Increases physical and mental capacity.
Content of 1 ml oral drops: 957-965 mg alcoholic extract (1:8) from the following herbs, in 1:3:3:3 ratio:
Peppermint leaves (Mentha x piperita L.; folium)
Nettle leaves (Urtica dioica L. és Urtica urens L; folium)
Blackberry leaves (Rubus fruticosus L.; folium )
Leuzea root (Leuzea carthamoides DC.; rhizoma et radix)
Traditional herbal medicinal product. Indications are based on experience of long-term use.
For risks and side effects, please read the patient information leaflet or consult a doctor or pharmacist!
Avaliable in Hungarian pharmacies