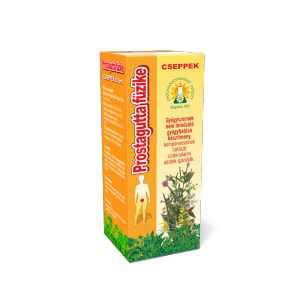 The acive ingredients of Prostagutta füzike oral drops increase the urine excretion, have mild anti-spasmodic effect in the urinary tract.
Content of 1 ml oral drops: alcoholic extract (1:5) from the following herbs:
80,0 mg Small-flowered willow herb (Epilobium parviflorum Schreb, herba)
53,4 mg Nettle leaf (Urtica dioica L. és Urtica urens L; folium)
40,0 mg Nettle root (Urtica dioica L. és Urtica urens L; radix)
40,0 mg Goldenrod herb (Solidago canadensis L. et Solidago gigantea Ait., herba)
13,4 mg Sweet fennel fruit(Foeniculum vulgare miller subsp. vulgare var. dulce (Miller) Thellung, fructus)
Herbal paramedicinal product, the effect of its components are verified by data in medical literature.
For risks and side effects, please read the patient information leaflet or consult a doctor or pharmacist!
Avaliable in Hungarian pharmacies