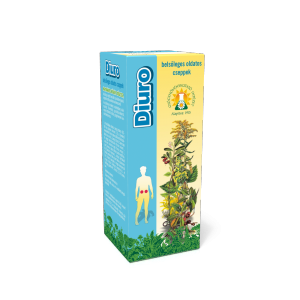 A Diuro oral drops can be used for mild diuresis. The product contains herbal extracts having diuretic, anti-inflammatory and mild disinfectant effects.
Content of 1 ml oral drops: 962-984 mg alcoholic extract (1:5) from the following herbs, in 2:3:3:4:8 ratio:
Bearberry leaf (Arctostaphylos uva-ursi (L.) Spreng. folium)
Cherry and sour-cherry fruit pedicel (Prunus avium L. subs.(var.) duracina or Prunus cerasus L. subs. Cerasus, stipes)
Equisetum stem (Equisetum arvense L., herba)
Birch leaf (Betula pendula Roth et/aut Betula pubescens Ehrh., folium)
Goldenrod herb (Solidago canadensis L. et Solidago gigantea Ait., herba)
Traditional herbal medicinal product. Indications are based on experience of long-term use.
For risks and side effects, please read the patient information leaflet or consult a doctor or pharmacist!
Avaliable in Hungarian pharmacies