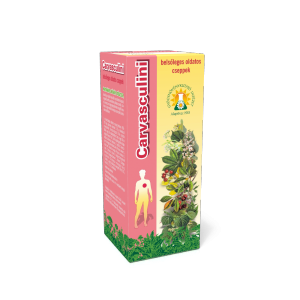 Carvasculini oral drops is applicable for the adjuvant treatment of cardiovascular diseases and mitigation of circulation complaints of neurological origin.
Content of 1 ml oral drops: 960-978 mg alcoholic extract (1:5) from the following herbs, in 1:1:1:2:2 ratio:
Linden flowers (Tilia cordata Miller, vagy Tilia platyphyllos Scop. or Tilia x vulgaris Heyne; flos)
Motherworth herb (Leonurus cardiaca L.; herba)
Cherry and sour cherry fruit pedicel (Prunus avium L. subs.(var.) duracina or Prunus cerasus L. subs. Cerasus stipes)
Horse chestnut leaves (Aesculus hippocastanum L., folium)
Hawthorn fruit (Crataegus monogyna Jacq. (Lindm.), or Crataegus laevigata (Poir.) D.C.; fructus)
Traditional herbal medicinal product. Indications are based on experience of long-term use.
For risks and side effects, please read the patient information leaflet or consult a doctor or pharmacist!
Avaliable in Hungarian pharmacies