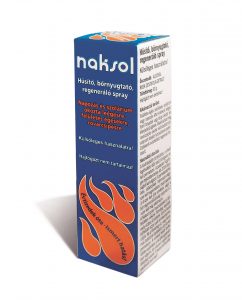 Cooling, soothing, and regenerating Naksol spray can be used to treat superficial burns, solarium caused or sunburn as well as in case of excessive heat exposure of hot household objects or fluids, even redness, smaller bruises, or tingling caused by insect bites. Soothes the itchy skin, regenerates the epithelium.
Directions for use: Apply Naksol spray abundantly on the affected skin surface as soon as possible. Hold the bottle in upright position, pump spray at least 8 inches (20 cm) from the skin. Repeat spraying at least 3-4 times after half an hour. Afterwards, apply the spray 3-4 times daily, and at the end, 1-2 times daily till skin regeneration.
After using Naksol spray a thin film layer will remain on the skin surface, which is soluble in water. Repeat spraying every/any time, if the film layer is washed off from the skin. The treated skin area should be protected from direct sunlight!
Warning: In case of more serious sunburns or burns, contact your doctor immediately. Naksol spray is recommended for external use only! Avoid spraying in the eyes, in the mouth or on the nasal mucosa.
Ingredients: Rose petal (Rosa x centifolia) extract, 96v/v% alcohol.
Flammable, explosive! In using the spray avoid smoking and open flame. . Do not puncture or incinerate can. Keep out of the reach of children. Do not store at temperature above 80°F (30°C)
Cosmetic product. CPNP ref. number: 1365934
Avaliable in Hungarian pharmacies.
We are looking for distribution partners. Contact us at info@gynki.hu.